Südzucker Capabilities –
A Strong Partner For Joint Success
Our people are the backbone of our products and services – we're a highly-trained, professional team of experts.
Sales & Marketing
Our sales and marketing teams are focused on what you and your customers need – today and tomorrow. We therefore strongly believe and invest in understanding consumer needs of the future. Those insights allow us to drive our efforts and to continually extend or optimize our product offering. Market needs and opportunities guide us in putting our sugar expertise and experience to work for you towards helping you improve the performance of your business. Talk to us about how we can support you in reaching your performance goals.
Research & Development
More than 450 professionals work at Südzucker Central Research & Development – it's our industry's finest and most experienced R&D team.
Every year we invest more than €40m into product and process development in the Südzucker Group. The scope of our sugar-related R&D is in the domains of agricultural raw materials (beets), process and production, new product, and technology development, as well as recipe creation and application technology.
In our two Südzucker R&D competence centres, application experts focus on technical feasibility and creating premium consumer sensory experiences using a broad range of state-of-the-art pilot and lab equipment. We look forward to developing tomorrow's solutions with you.
Production & Logistics
Experienced engineers and seasoned production teams manage our sugar operations. We operate 16 sugar factories throughout the EU to ensure that we are as close as possible to your production facilities. Our main sugar plants are located in Germany (7), Belgium (2), France (2), Poland (4) and Moldova (1). Additional factories are operated by Agrana in Austria (2) and several Eastern European countries. Every year we invest between €100m and €150m into maintenance, extension and upgrading of our production capabilities.
Finally, our logistics experts and customer service teams work hard to reliably supply you with what you need, when you need it.
Südzucker - Sugar business at a glance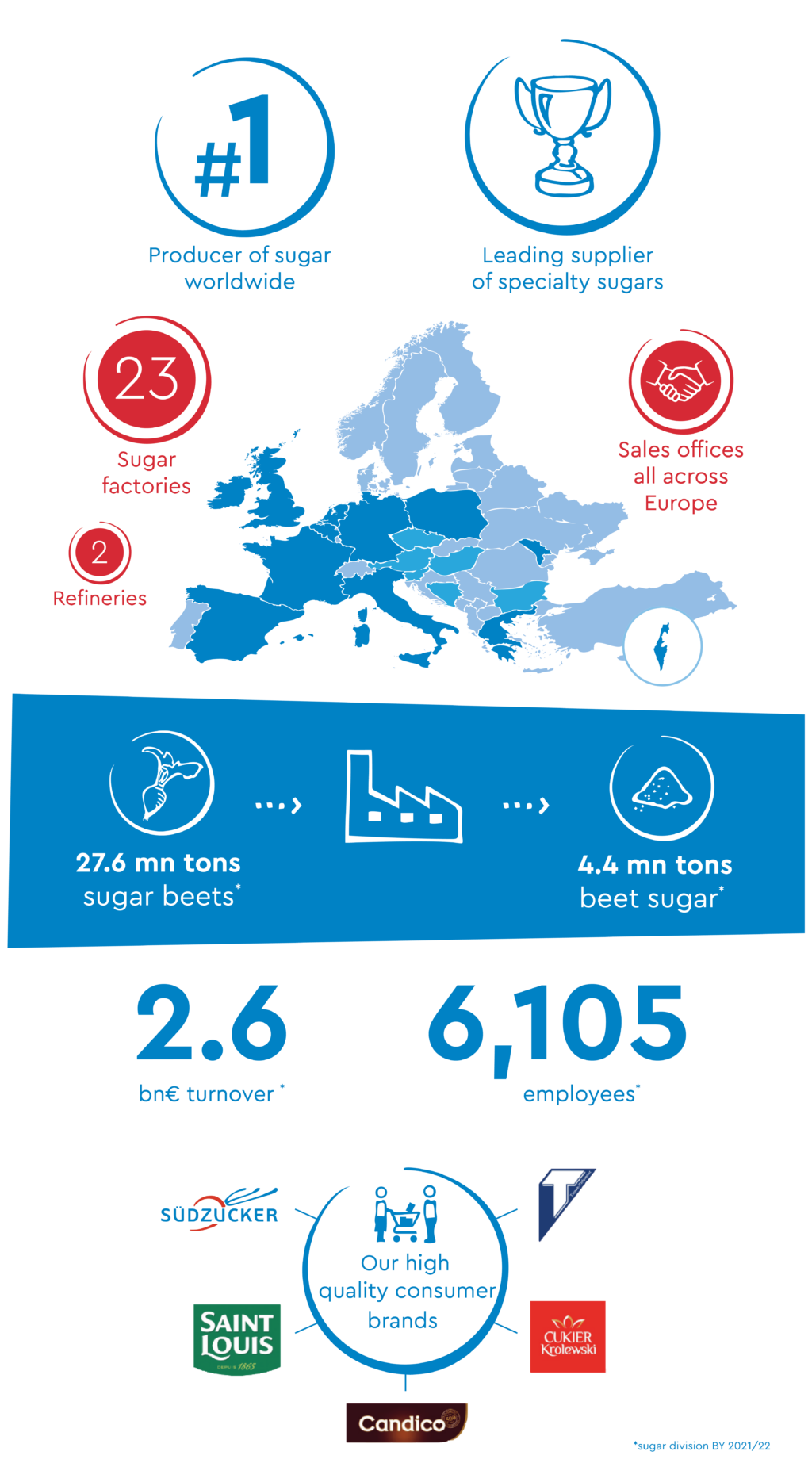 Highest quality standards
At Südzucker we are committed to the highest quality standards – for our products, our work practices, and our process/quality management. We undergo industrial certifications with well-known, established certification systems and regularly receive the highest ratings:

Sustainability – our core value for decades
As the scope of our activities covers everything from field to fork, sustainability has been a core business purpose and a key driver of our operations for decades. Environmental and social responsibility are essential elements of our business strategy and corporate culture.
As part of the integrated Südzucker Group, the Südzucker Sugar Division defined four main impact areas, on which it focuses its sustainability activities:
For full details of Südzucker sustainability activities, please see here.
Get in Touch
Are you interested in our expertise & capabilities? Do you want to know more about Südzucker´s sugar business or the history & philosophy of our company?