Our Powdered Fondant is a very fine, milled icing sugar which also contains spray dried glucose. It is perfect for use in bakery applications such as decorating fresh pastry, cakes or doughnuts, for filling chocolate candies and as seeding agent in confectionery products like caramel fudge or fruit chews.
General Benefits of Powdered Fondant
Involves no block cutting reducing manual handling
Easy to use and versatile (can be transferred via a bulk powder line)
Extra fine particle size (less than 20 microns)
Freeze and thaw-stable
Very long shelf life (24 months)
Also available as a sugar-reduced solution
Kosher and halal-certified
Free from allergens
Suitable for vegetarians and vegans
Basic Product Information
Our Powdered Fondant requires less manual handling because you don't have to cut the desired amount from a block. Simply pour out as much as you need, blend with 11-13% water and heat it to 35-45° C. You will also find the extra fine particle size of less than 20 microns (μm) helpful for your processes to avoid a gritty texture.
Typical Ingredients
Sugar and glucose syrup
Storage and Shelf Life
Please store our Powdered Fondant in a dry place, preferably at a temperature between 15 and 25° C. Under these conditions, in the unopened, original packaging, the product can be stored for 24 months after the production date.
Practical Tip
Reduce or increase the amount of water you add to produce firmer, denser covering or lighter, more transparent glazes. But please be careful to never exceed the maximum temperature of 50° C.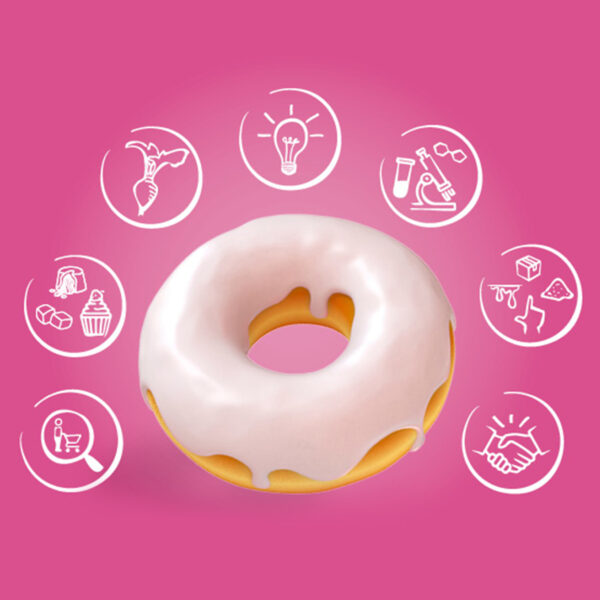 Südzucker's Fondants, Icings & Glazings Portfolio
Buy online
If you are interested in buying our products online, please select your country or contact us via email.
Get in Touch
Do you want more information on our fondant, icing and glazing products? Are you interested in further market and consumer studies possibilities for our powdered fondant products?
Do you have further questions or need support to select the right fondant, icing and glazing product for your cakes, sugar confectionary, chocolate, or other applications?