Südzucker Pearl Sugar, also referred to as nib sugar or hail sugar, is the unique ingredient of – amongst others – the famous Belgian Liege Waffle.
Our Pearl Sugar is used for decoration, as a crunchy texturizer, and sweet morsel of goodness in baked goods like waffles, sugar bread, brioches, French chouquettes and Pulla buns.
In sugar confectionery, Pearl Sugar is used as the centre filling for colourful sweets decoration. It's also great for ice cream, where small syrup-coated sugar pearls can be used as brésilienne. Südzucker Pearl Sugar is made of the highest quality sugar, with an attractive bright white colour and a pleasantly crunchy texture.
General Benefits
Produced from extra white sugar (EU1)
Withstands surface heating
Maintains high grade of whiteness, even after baking
Creates an attractive appearance
Highly heat-resistant, doesn't melt during baking
Sweet highlights in baked goods
Adds delicious, crunchy effect
Available in many different sizes, covering all your creative ideas
Halal and Kosher-certified
GMO-free
Granulation Sizes
The size spectrum of our Pearl Sugars ranges from 1.25 mm to 16 mm per pearl which come in 7 different sizes.
Depending on granulation size, our Pearl Sugar can be either used for decoration (P1 – P2 – P3) or on the inside of end products (P3 – P4 – P5) as a crunchy filling. Generally, the different Pearl Sugar sizes are suitable for a variety of end products, e.g.:
Your various applications, our matching pearl sugars
Product / pearl size
P1 (1.25 – 2.5 mm)
P1/2 (1.25 – 4.0 mm)
P2 (1.6 – 4.0 mm)
P3 (2.5 – 5.6 mm)
P4 (4 – 8.0 mm)
P4/5 (5.6 – 10 mm)
P5 (8 – 16 mm)

Madeleine Cakes /
Muffins / Donuts

Pulla Buns

Cougnous / Cougnolles

Ginger Bread

Wafers

Liege Waffles

Sugar doughs (bread)/ Cramiques
Basic Product Information
We produce our Pearl Sugar in a modern, state-of-the-art production facility according to IFS standards and continuously monitor our processes to guarantee high product consistency and quality.
Typical Ingredients
Sugar (EU1-quality)
Packaging, Storage and Shelf Life
Pearl sugar has no best-before date but should be stored at approx. 20°C and below a relative humidity of around 65 % and away from odorous substances.
Under these conditions, our Pearl Sugar will keep its features and characteristics and is indefinitely storable.
Practical Tip
To add an extra crunchy effect to your Liege waffles and improve your customers' taste experience, follow our recipe below and add our Südzucker Pearl Sugar P4 to the baking mix.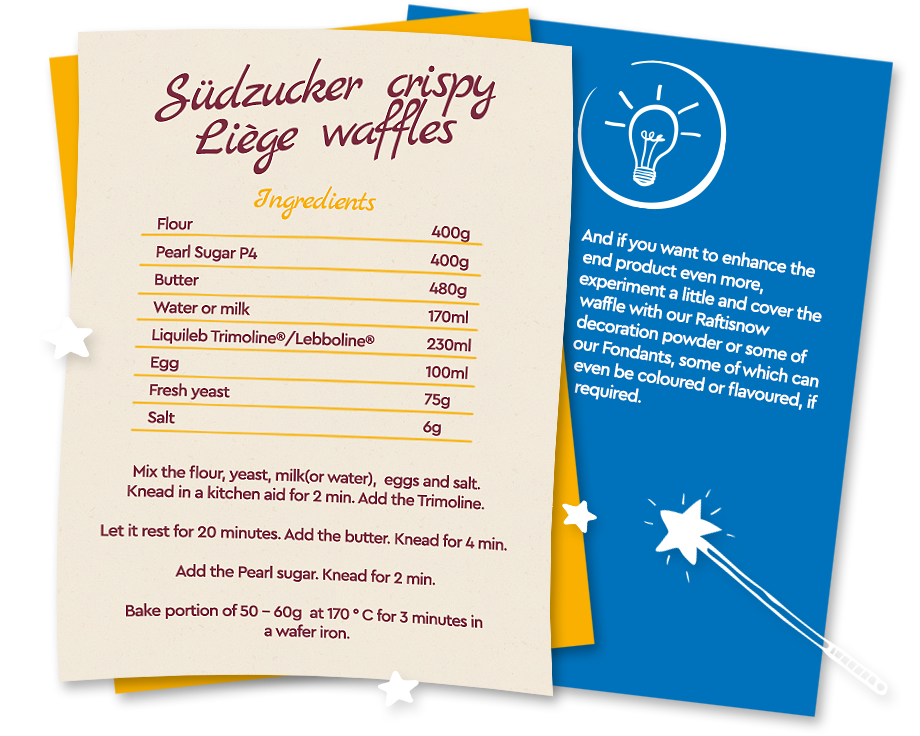 | | | |
| --- | --- | --- |
| Product | Packaging type | Packaging unit (in kg) |
| P1-P2-P3-P4-P4/5-P5 | PE Bag | 10 |
| P1-P1/2-P2-P3-P4-P4/5-P5 | PE Bag | 25 |
| P1- P1/2-P2-P3-P4/5-P5 | Big Bag | 1000 |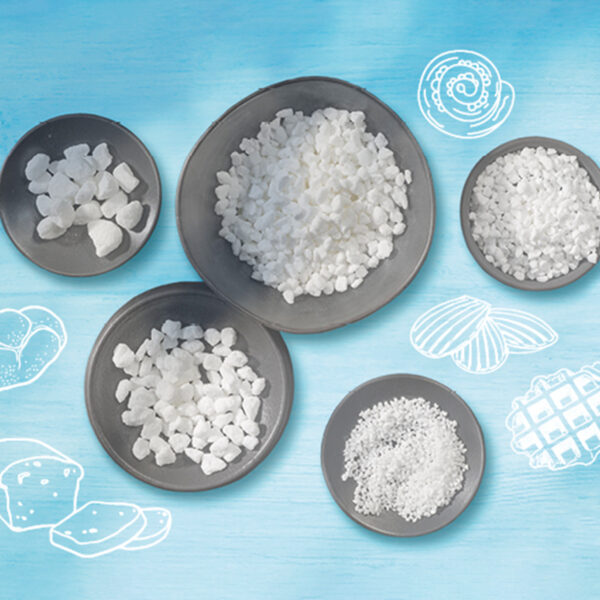 Südzucker´s Pearl Sugar range
Buy online
If you are interested in buying our products online, please select your country or contact us via email.
Get in Touch
Get in touch with us and discover our Belgian diamonds. We look forward to helping you develop new concepts & creative ideas with our Pearl Sugar – the only limit is your imagination.