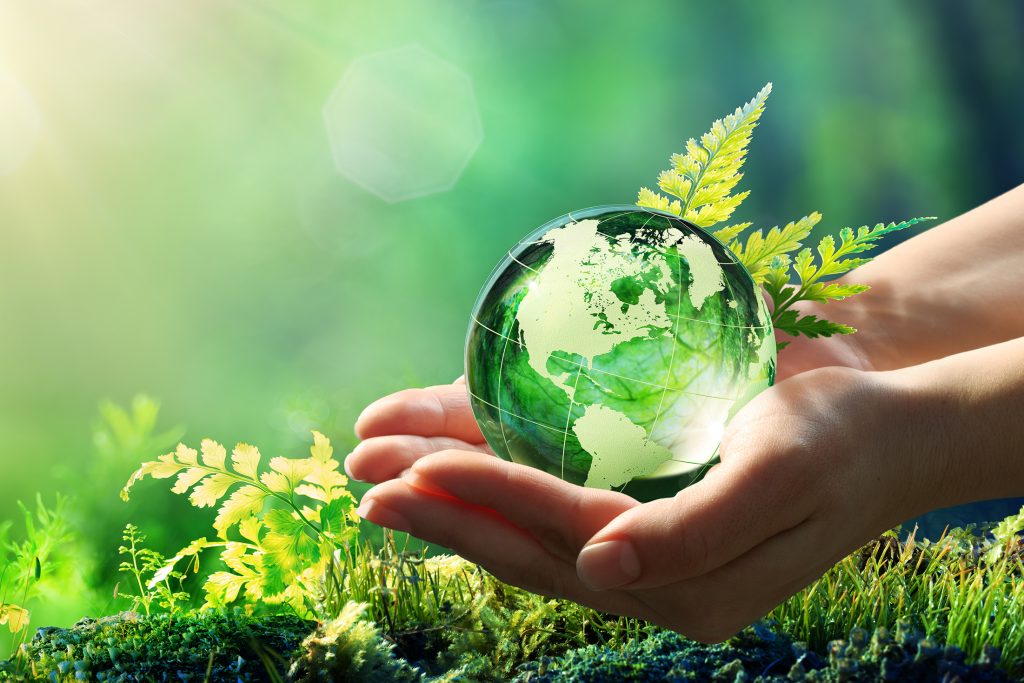 Sustainability at Südzucker:
We grow our business by actively taking ecological and social responsibility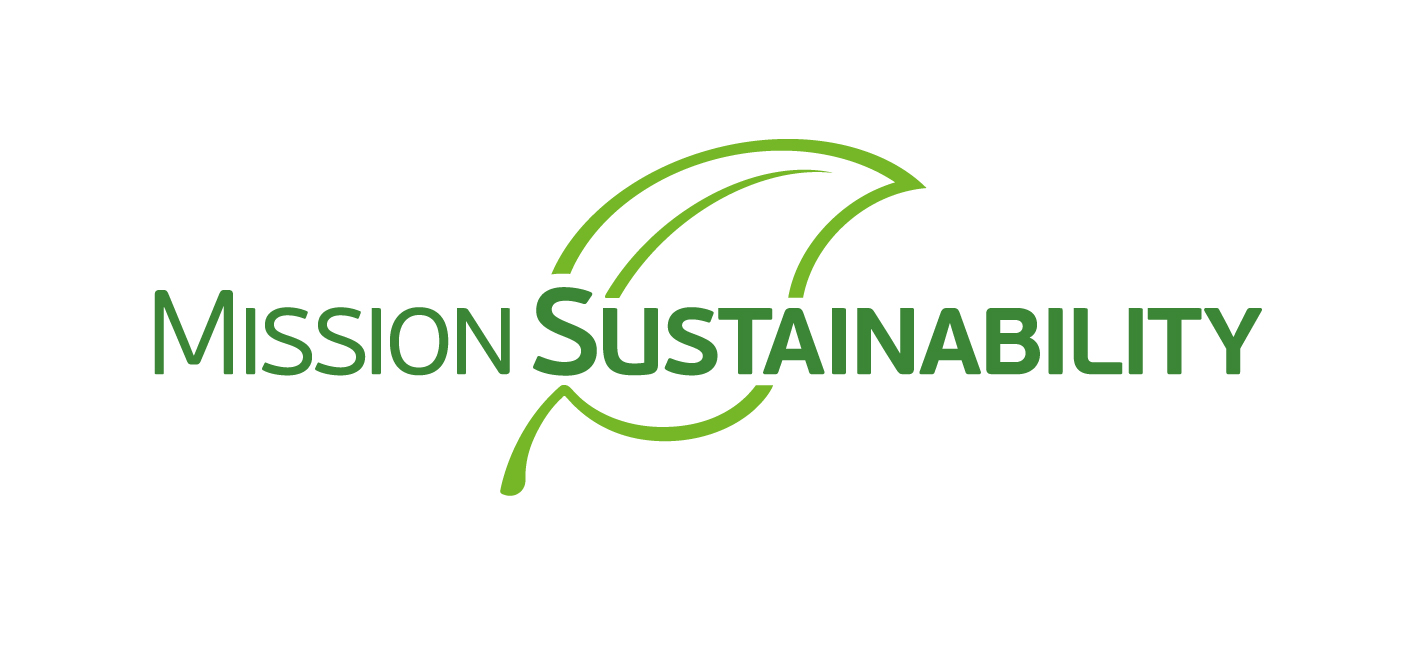 What do we mean when we talk about sustainability? Sometimes people find it hard to define the term. In principle, Südzucker subscribes to the definition of the United Nations Sustainable Development Goals. We aim to make a significant contribution to a blueprint that will help bring about a better and more sustainable future for all. At the same time, we are also very clear: For us, sustainability must serve on 3 levels: 1) the Planet (ecology), 2) the People (society) and 3) the Economy.
Sustainability is at the heart of our business in order to drive value for our stakeholders: from farmers to customers and consumers.
Südzucker's commitment towards a better planet comprises the following topics: sustainable agriculture, biodiversity, organic beet sugar, energy & emissions, water and packaging. We want to build our business by respecting and improving the ecological and environmental footprint, but also the impact on people and the society (social footprint).
1. Sustainable agriculture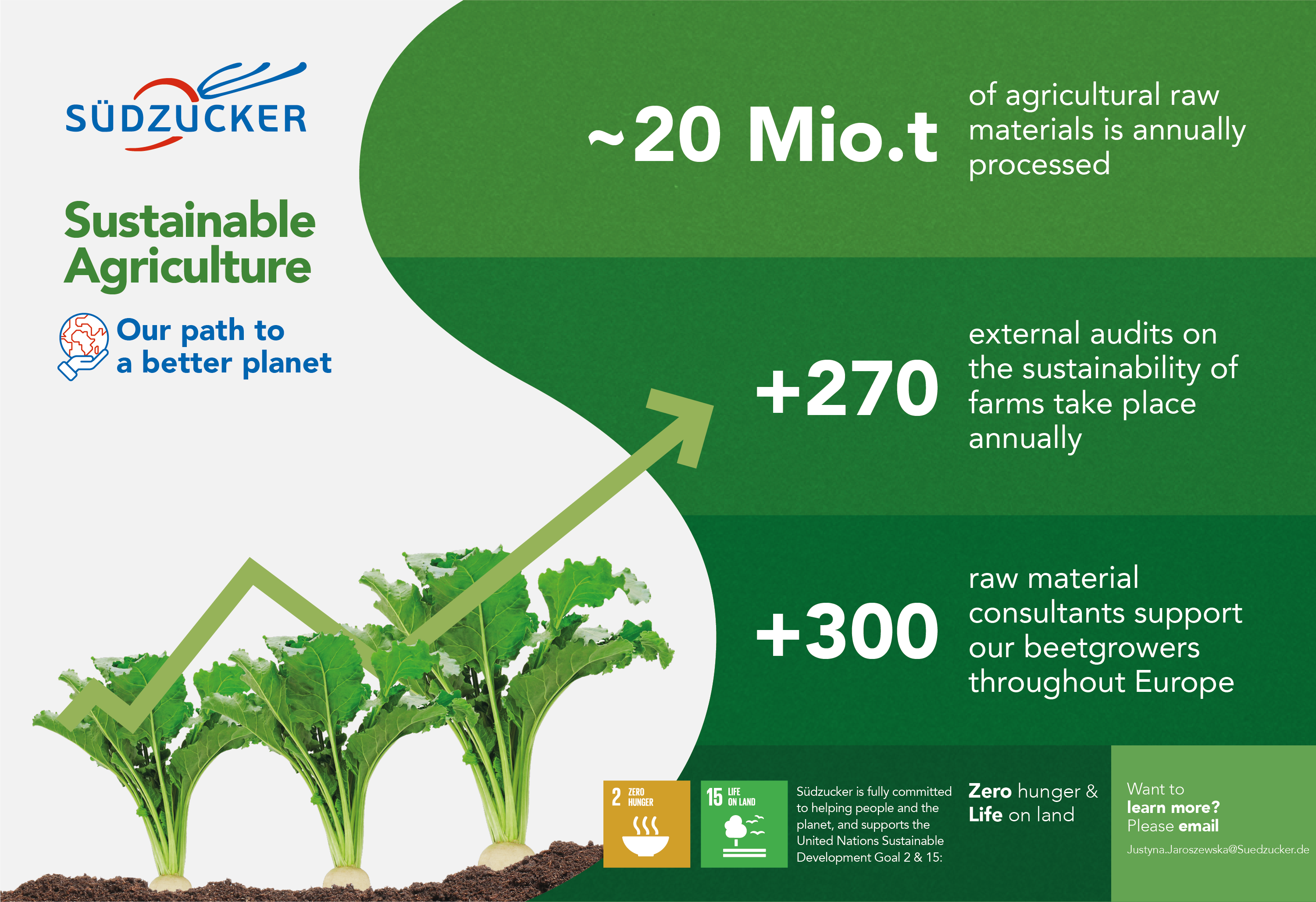 Since the company was founded in the 19th century, the core of our business model has been to process agricultural raw materials into high-quality products. Therefore, sustainable handling of this agricultural material and good cooperation with the sugar beet farmers are essential.
Südzucker fosters long-term partnerships with its farmers: securing highly valuable jobs in agriculture in Europe while assuring good and fair working conditions.
Contribution to desirable development in rural areas where the sugar beet is grown: 80% of value creation remains in rural areas, supports local communities and thus also ensures a safe sugar beet supply.
Support of sugar beet farmers by more than 300 raw material consultants in sustainable and responsible farming, e.g. to reduce the use of fertilizers, herbicides and pesticides.
In Kirschgartshausen near Mannheim Südzucker recently founded an experimental farm to gain new insight in sustainable sugar beet cultivation. We are continuously exploring and developing new technologies and practices within a broad network of external partners.
Südzucker's farmers value our initiatives: about 30,000 active and former beet growers hold the majority of Südzucker shares. This shows that even after their retirement they want to stay involved with Südzucker.
SAI: Südzucker's sustainable agriculture is officially certified by the Sustainable Agriculture Initiative Platform (SAI). We are proud that Germany and Belgium have achieved gold status, France and Poland silver status. Our membership in SAI demonstrates our compliance with comprehensive sustainability criteria. Our goal for 2021 is gold status in all countries.
2. Biodiversity
Biodiversity is a key focus area within our ecological activities. We believe that biodiversity is essential, which is why we are working hard to maintain it.
To preserve and support animal species such as insects, birds and small rodents: creation of over 1,300 flower strips at the edge of sugar beet fields in 2019.
By now over 100 bird species live by the ponds of our factories and in the surrounding areas. Our ambitious goal for 2021 is to increase the number of flower strips to a minimum of 1,800.
3. Energy & emissions in the sugar production
We are constantly striving to become more energy efficient: We already achieved a 30% reduction in energy consumption in production from 1990 to 2019.
Renewable energy: We have increased the use of renewable energy by 55% in the group since 2014. Südzucker produces biogas at multiple production sites.
CDP: In September 2020 Südzucker joined the Carbon Disclosure Project (CDP). As a member we provide transparent information on challenges and opportunities for the company arising from climate change. Thus, we aim to build more trust through transparency and respond to the rising environmental concerns of customers, consumers and investors. It is an important step for us to move forward on our path to sustainability.
We have ambitious goals: We are working to reduce GHG (greenhouse gas) emissions in the sugar segment by 50% by 2030 (vs 1990). By 2050 Südzucker aims to become climate-neutral at the group level.
Actions: Use of modern energy technology such as combined heat and power plants that produce both steam and electricity highly efficiently. Or the certification of energy management systems at our production locations according to ISO 50001 with the goal to improve the group's energy performance.
4. Water
Water is the world's most important resource. Therefore, it is very important for us to preserve this scarce resource.
98% of our sugar beets can grow without irrigation and 75% of the sugar beet consists of water, which we reuse multiple times in the production process.
The result: Südzucker has a very low fresh water usage rate (max. 5%); over 95% of fresh water requirements are covered with the water that contained in the beet.
5. Sustainable products – Organic Beet Sugar
Besides sustainable actions, we are seeing an increasing demand for sustainable products and activities. We are a pioneer in organic beet farming and the production of high-quality, regional organic beet sugars.
Südzucker's Organic Beet Sugar is made from certified organic European sugar beets (EU organic regulation, Naturland and Bioland certifications). Our production and supply chain is also certified on the basis of these high-standard regulations.
6. Packaging
98% of our consumers' packaging in the sugar segment consists of paper and will be 100% FSC-certified by early 2021.
Our goal in 2022 is to reduce PE usage by 10% for all of our packaging used in industry and retail.
Our commitment: All plastic packaging in the sugar segment will be 100% recyclable by the end of 2021.
7. Logistics
Bundling as much as possible: Over 50% of our sugar products are shipped in bulk.
Keeping transportation routes as short as possible: The average distance from our sugar factories to our customers' factories is only 183 km.
Keeping track of and optimizing our logistics: For instance, we invest in infrastructure and use state-of-the-art software tools to always select the best connections and optimize distances, thus saving and costs and CO2.
8. Sustainable people management
When doing business, 'people' are our second pillar of sustainability. From every sugar beet harvested to every Südzucker product bought – this is only possible thanks to the people who work at Südzucker. Happy employees are the key to success, which is why Südzucker has established some important measures.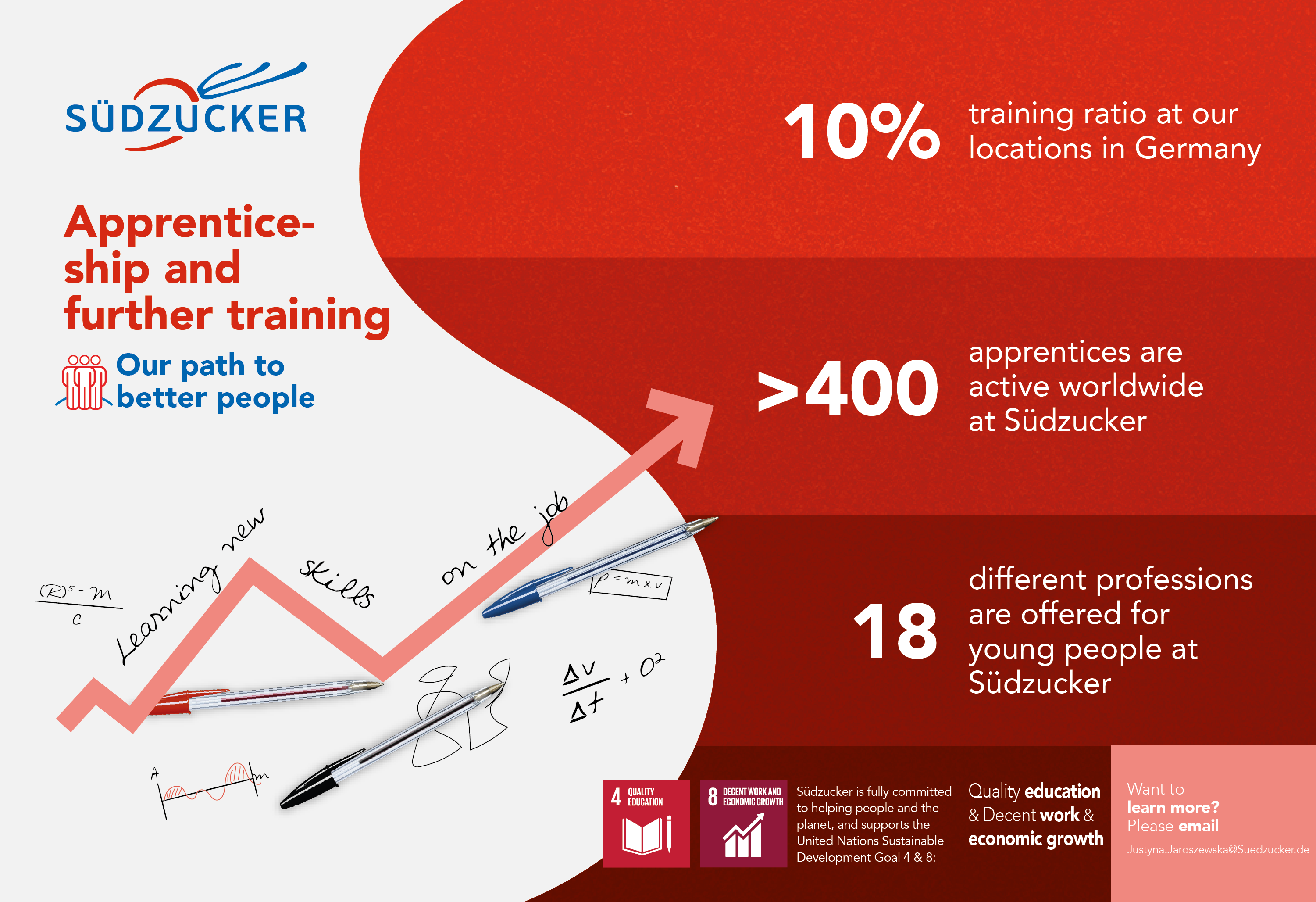 The Südzucker Code of Conduct: To ensure 100% safety, transparency, inclusion and fairness and a framework that is binding for all Südzucker employees and suppliers. It applies to every Südzucker employee at all locations worldwide. We are also challenging our trusted suppliers based on the Südzucker purchasing conditions and we have established transparent compliance guidelines.
Occupational safety has a very high priority throughout the Südzucker Group. The 'Vision Zero' – zero accidents at our sites – is and remains our goal. Actions: Regular identification and evaluation of risks in occupational safety and plant safety and our health and safety management system.
High qualification and motivation: Südzucker invests heavily in training, HR development, continuing education and the recruitment of young talent. For young people interested in a career at Südzucker there are more than 18 different professions offered and we are proud that more than 400 apprentices and dual students are currently employed by Südzucker worldwide. Südzucker is proud to have a high young professional / apprenticeship quota.
Sustainability has been at the heart of Südzucker for decades. We are on a journey and are therefore happy to accelerate this development with our employees, our customers and other external partners. Sustainability – Advancing together!