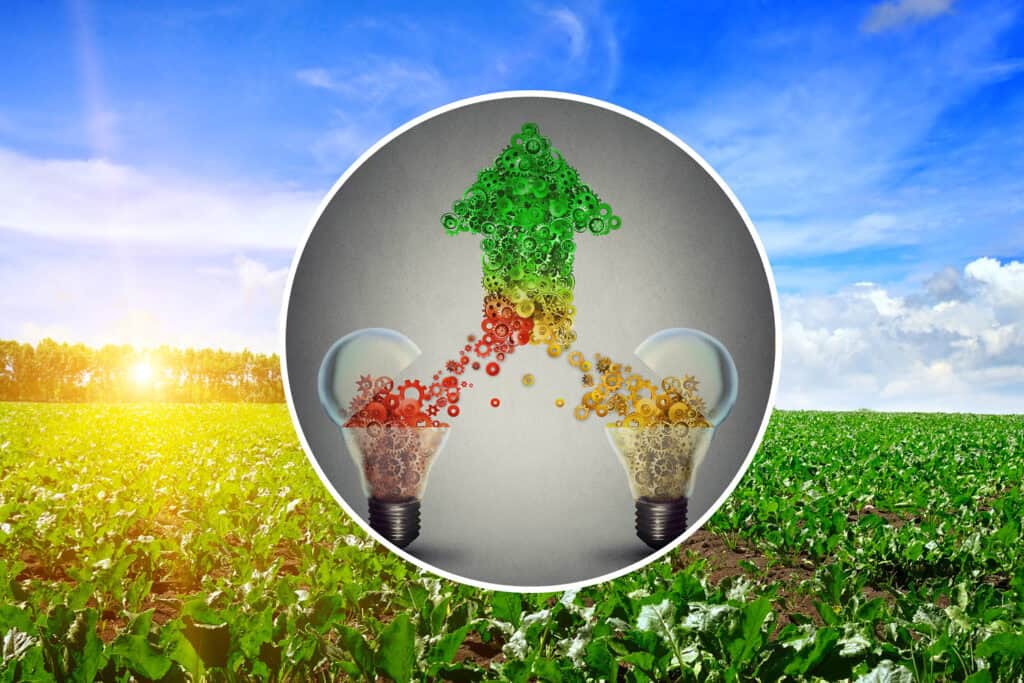 'Collaboration Is Key': the Role of Open Innovation Ecosystems in Shaping the Future of Food and Bio-Circularity
"With the health of our planet at a tipping point, food companies have a responsibility to harness their expertise, technology and network to positively transform the food value chain from farm to fork", says Florian Weber, head of new business development at the Südzucker Group. Here, he explains how the company aims to co-create a more sustainable global food system with corporate-startup collaborations including the launch of its open innovation platform, theBarn.io.
The Südzucker Group is well known within its market for its sugar core product, made from sugar beets grown and processed in factories all across Europe and processed into a broad ranges for products for the food and non-food industry. But the group, which is also a major producer of health food ingredients and functional starches, a processor of fruit solutions for the food and beverage industry and the leading producer of bio-ethanol, has ambitions far beyond processing raw agricultural ingredients – and believes other companies within the food industry should too.
"We have been innovating in the plant-based space for almost 100 years and it was time we open up our technology, our R&D, our market expertise and access to our network of customers and farmers to turbocharge bio-circular economy innovation," says Florian Weber.
Accelerating the Future
Over the past few years, a number of so-called Big Food companies, including Unilever, Nestlé, PepsiCo, Givaudan and Bühler – to name a few – have established initiatives, programmes, even in-house corporate venture funds, to gain exposure to dynamic agritech startups and bioeconomy entrepreneurs innovating in new fast-growing b2c and b2b categories, including plant-based protein, wholesome sweetening solutions, functional health food ingredients and defossilisation of the food and chemicals industry supply chain.
"The time was right for the Südzucker business to open our doors to food innovators, bioeconomy specialists and entrepreneurial agronomists who share our vision of creating a more sustainable agrifood sector and give them access to our sophisticated R&D resources, our research farms, customer base, scale-up possibilities and capabilities in producing biobased food solutions we have developed over decades."
Agricultural research and innovation have in fact always been in Südzucker's DNA. Südzucker established an agricultural research department many years ago that collaborates with universities, R&D institutes and its farmer network to get insights that will sustainably optimise yield and improve crop quality for the future. Extensive field trials on new sugar beet varieties, plant protection, ecologically sustainable cultivation methods, mechanical weeding technologies and much more are conducted in all regions of the Südzucker Group.
Core to the group's research activities is the Sugar Division's test farm in Kirschgartshausen, Germany, where it trials various sustainability initiatives. One major research project over the past few years has been in cooperation with the Institute for Agroecology and Biodiversity to discover whether flower strips integrated into sugar beet fields has a positive effect on the local wildlife like pollinators and other beneficial insects and increasing biodiversity. New technologies that would allow demand-oriented fertilisation are also a current focus in Kirschgartshausen.
"It's give and take," says Weber. "We are excited to get access to the agility, expertise and innovative concepts of disruptive start-ups in the areas we are strategically aligned – in decarbonisation of industrial manufacturing and alternative proteins, wholesome sweetening solutions, biobased chemicals and sustainable farming as well as packaging."
"Ultimately, collaborative innovation is much more fun, faster, more agile, efficient and much more transformative," says Weber.
Aligning Innovation With the Market
Food businesses that don't take seriously the threat from climate change, the growing demands of regulators to reduce emissions, the need for implementing bio-circular solutions and the continued uptick in conscious consumption will likely not survive to see 2030.
"The world is moving fast towards an environmental disaster," says Cyrus Mewawalla, Head of Thematic Intelligence at GlobalData. "Governments have been distracted by pandemics, wars, and rising inflation. But consumers – especially young consumers – continue to maintain pressure on businesses to act. CEOs that are too slow to improve their company's approach to sustainability will see an exodus of customers and a drop in profits far sooner than they ever imagined."
Farming is facing huge and complex challenges due to volatile weather patterns, lack of water, shrinking resources and resistant pathogens. Meanwhile, health- and sustainability-conscious consumers are looking to make smarter, feel-good choices by opting for "clean label" products that are better for them and better for the world in which they live. Examples include products that use ethical farming and minimise the use of Genetically Modified Organisms (GMOs) and pesticides.
According to a recent GlobalData report[1], the term "clean label" also refers to products that are free-from artificial ingredients and preservatives – (plant-based) naturalness an increasingly dominant consumer theme.
This years Südzucker Consumer Trend Tracker also confirms the importance of sustainability aspects and transparency for consumers when looking for products: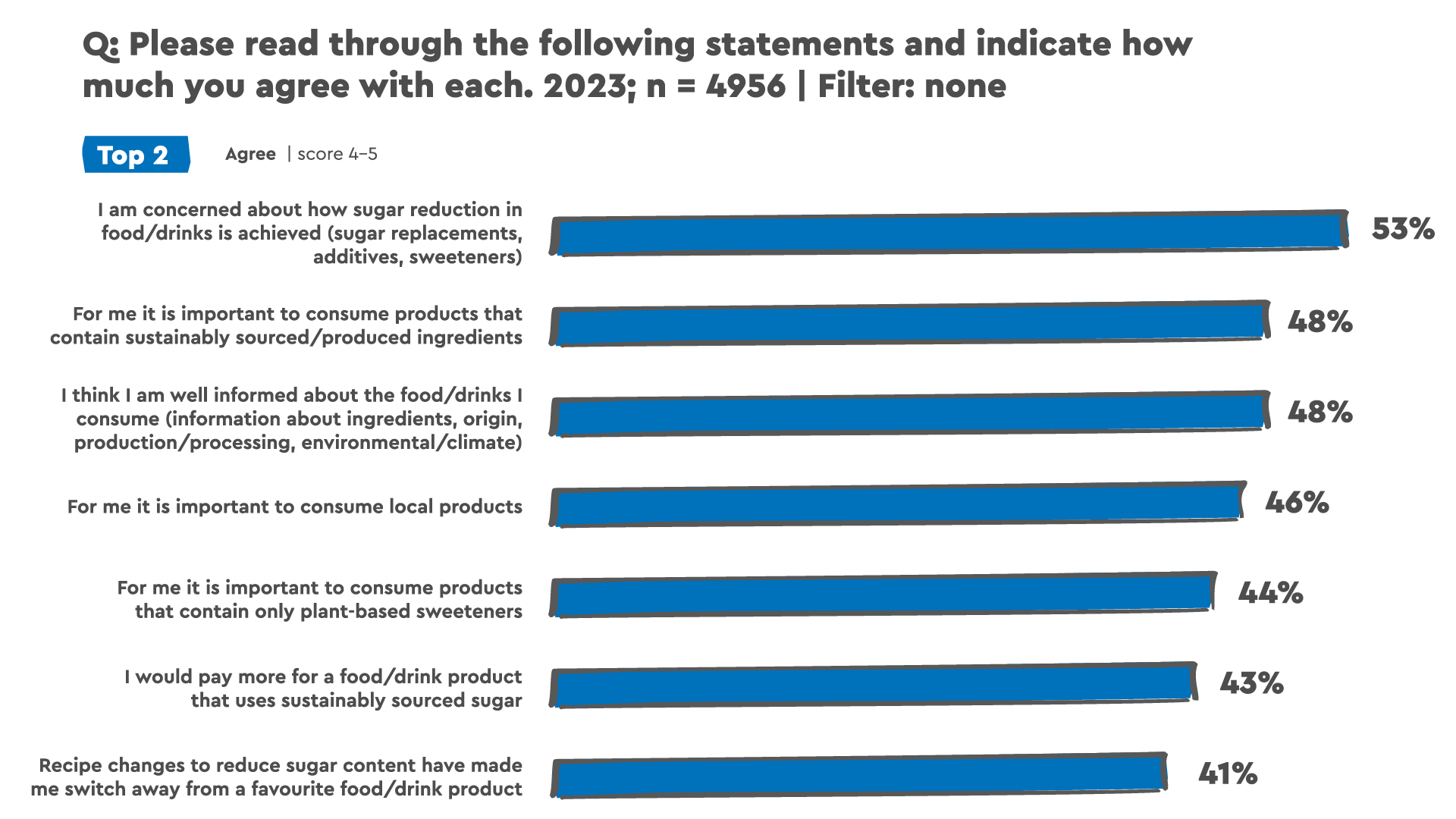 In a positive feedback loop, as businesses become more transparent about their actions to build trust with this conscious consumer, so consumers are demanding this to become normalised. Weber says: "Future food tech belongs to those who can make the best use of the limited resources we have available and intelligently valorise the complete biomass, which includes every part of a crop and downstream upcycling of all sidestreams with highest efficiency."
theBarn team with its digital open innovation platform, which launched last October, is currently working with 30 startups and founders on five "innovation lighthouse" themes: alternative, plant-based proteins, bio-based chemicals, wholesome sweetening and decarbonization, sustainability and climate strategy, and digital and digital service solutions. To foster fast progress and tangible outcomes of collaboration projects Südzucker Group offers a kind of internal acceleration programme that lasts about three months, but Weber says there is no "one size fits all approach".
The team welcomes applications from startups at all levels of growth, from minimum value proposition (MVP) to scaleup willing to co-create a plant-based future.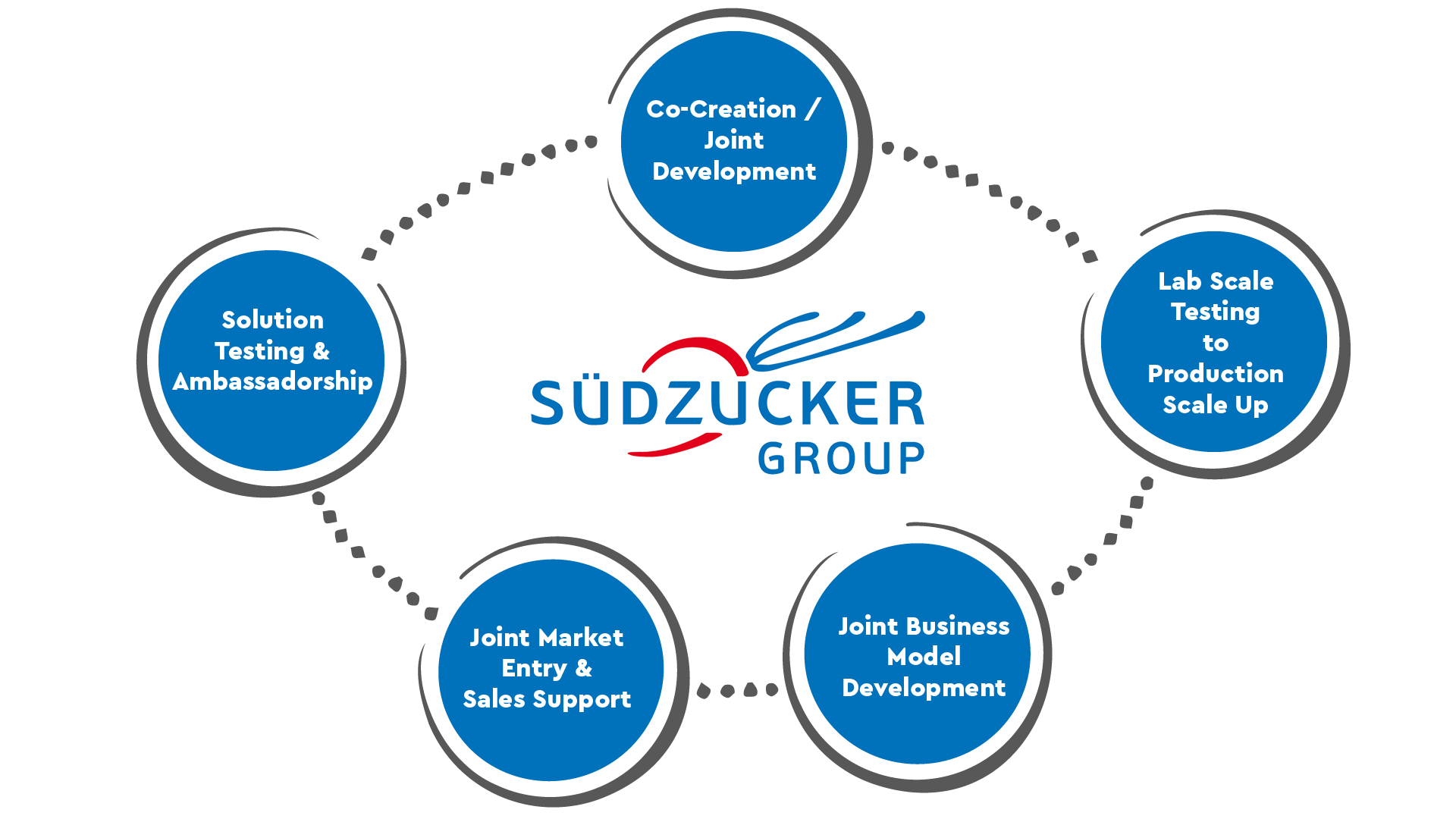 "There are many different requests our innovation partners have for us. Some want to our R&D teams to evaluate their products & ingredients, some want us to give them access to our customers for early market testing, some are also looking for funding and many are of course interested in our market and technology expertise. We also have several partners that want to co-develop a product or technology with us. We welcome it all," says Weber, who is responsible for growing theBarn's innovation ecosystem. "To achieve our strategic milestones we must complete the transformation of our business from a large-scale processor of agricultural raw materials to a leading strategic partner of plant-based solutions for a liveable, healthy, and sustainable world. We cannot do this alone."
A Sweet Match
Südzucker has already been active in the start-up scene for a number of years. The Sugar Division has participated in the MassChallenge Switzerland early-stage accelerator programme for 6 years. The accelerator programme is industry-agnostic, but well accepted by foodtech startups and disruptive companies whose solutions include goals to offset or actively reduce emissions when at scale. Südzucker also recently joined the pan-European EIT Food Accelerator Network, designed for pre-seed funded agrifood startups to validate their technology and prepare for commercial adoption.
It was through MassChallenge Switzerland that Microbe+, an agritech startup focused on helping farmers swap chemical-intensive pesticides and fertilisers with effective eco-friendly biological solutions, was matched with Südzucker.
"Having access to Südzucker's beet sugar test farms was incredibly important for us to develop and validate our biologicals," says Anna Ogar, founder and CEO of Microbe+. "In today's world, the agricultural industry faces numerous challenges, including the excessive use of synthetic pesticides, the over-reliance on chemical fertilizers, and the loss of biodiversity. Our ambition is to help farmers adopt effective, affordable, cost-effective ways through our biological solutions. Like a 2-in-1 shampoo and conditioner, our products are designed to make crops more resilient to stress including pathogens as well as improve crop performance. Farmers can produce high-quality food for less with a viable alternative to traditional chemical-intensive approaches.
"By partnering with established food companies we have been able to speed up the innovation process. We have been able to test our products across a broad range of crops, including strawberries, potatoes, raspberries and grapes. Thanks to Südzucker, we can add sugar beet to that list."
Weber says: "Memberships of these accelerator programmes was an important first step on our journey to open innovation programs and impactful cooperations with startups. Now, through theBarn.io, we have also a direct, digital touchpoint for startups and founders addressing the biggest challenges of our time and hopefully that will mean making more concepts into commercial realities that will change our food and wider bio-economy system for the better.
[1] GlobalData Thematic Report: Clean Label in Consumer, April 2023
Download our newest paper about Südzucker Open Innovation activities and set-up to find out more and how you can make us of our Group's vast infrastructure and expertise.
*Article written by Verdict Media Strategies / Global Data Ltd.